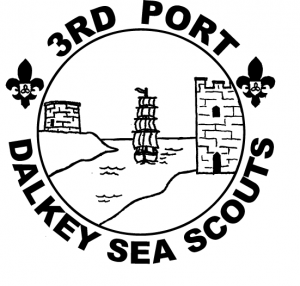 A BIG THANK YOU TO EVERYONE WHO WAS INVOLVED WITH THE CLAMBAKE….
Dalkey Sea Scouts, held its annual fundraising Clambake on May 7th in the grounds of the rectory garden at St Patrick's Church, Harbour Road.
Despite the thunder and lightening and the rain, another great night was had by all who attended. The Clambake is a huge endeavor undertaken every year by the parents of the scouting members of the troop. The effort and support put into the night is astounding and we would thank everyone involved organising it, parents, leaders, Scouters, guests, those who attended on the night or supported it in any other way.
We would thank Reverend Ben Neill and his wife Kay for allowing us to use their garden which makes an idyllic setting for such an event and the Parish Fete committee for allowing us to avail of the marquees to provide much needed cover. We also would thank the local residents for their understanding and hope that we did not disturb them unduly.
We wish to thank the local businesses who sponsored the evening including Fitzpatrick's Hotel, On the Grapevine, Grandstand Sports and Nuala Woulfe. From members of the group we also received other prizes which included limited edition photographs by both local men John Fahy and Terry Mc Donagh and a voucher for the Ferrycarrig Hotel, Co Wexford donated by the Noonan Family. We would also thank Tiggy and Robert Fowler as well as Avril Ivory of the College of Naturopathic Medicine for putting up other raffle prizes. We also thank Bono and Van Morrison for donating items to be auctioned.
A particular mention is deserved by Mervyn Stewart of the Guinea Pig restaurant for his unwavering support. Mervyn has supplied his delicious chowder for more years than he cares to remember and each year it is the cornerstone of the catering.
And lastly the Ventures, this year we had a team of ventures who helped with the set up, serving and clean up both on the night and the next day.  They were a credit!
Without all this generous support we would not have such a great night and gain an impressive fundraising result. All monies raised go towards equipment and other expenses for the troop.
The Numbers this year….we raised a little over 2.900 euro between ticket sales, bar sales, raffle and auction. This was a fantastic result in the current climate. We catered for about 100 people with approx 30 parents and 8 ventures directly involved. We had ticket sellers, salmon cookers, patio heater lenders, dishwashers, glass washers, Auction organiser – Kathleen Mc Donald, Auctioneer – Darina Porter, DJ – John Fahy, Barman – Mick Kingston, servers,  raffle organiser – Cathy Moore, raffle prize givers and raffle ticket sellers: set- uppers and take downers, lighting experts, salad makers (nearly 20 number) and a man with a van – Brian Comerford.  Our BBQ man on the night was Frank Fitzgerald who brings his own supply of logs.
Generally, feedback was very positive.  There is a set formula for this event and it is always good to vary it a little, this year we had the auction, while last year we had desserts!! Both caused a bit of excitement on the nights and went down very well. The ticket prices have been reduced in recent years as have the bar prices. At 25 euro per person, it is a very unique night as well as being a successful fundraiser for the group. Remember all the funds go back into equipment and supplies for our children.
Lastly, the night is a great opportunity for Scouting parents to get together and support the work that is being done throughout the year. It is also a chance to catch up or even bring new friends.  On behalf of the Troop, your involvement is appreciated.
Yours in Scouting
Jean Heylin,
Chairperson of the Parents Support Group.