On June 8th, a very sunny summer weekend, the 41st Dublin hosted a 'Gathering' Event. We invited a party of 26 scout and Scouters to Dublin for an overnight. Our guests are members of the 6th Bebington Sea Scout Group which is based in the town of Eastham on the Wirral peninsula, near Liverpool. On their short visit, they had a trip to Dalkey island from Coliemore harbour, with a guided tour by our own tour guide, Brian Meyer. A total party of over sixty camped overnight in Blackrock on the warmest Saturday night to date and were only cooled down by a swim at Seapoint the next morning.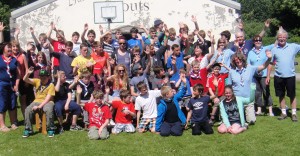 One Bebington scout, Jonathon Street, was presented with some genealogical research done by one of the members of our troop. Jonathon was delighted to have his Irish heritage confirmed as well as discovering he had some possible links with members of our troop, way, way back!
Our guests had a truly memorable visit, enjoyed their trip to DalkeyIsland, loved their walk around the village which could only have whetted their appetite for further visits. Well done to everyone involved.