As you will know, we held a  'gathering event' in June with the 6th Bebington troop from Eastham, near Liverpool.
Further news about this event is that  Cyril Byrne, the Irish Times photographer who photographed the event, had his/our photo picked to go on the cover of the Irish Hospice Foundation fundraising book – The Gathering, Reflection on Ireland. The photo shows Dalkey sea scouts with the troop from Bebington on Dalkey Ireland. Congratulations Cyril!
It was a very proud moment for the group to have our photo chosen and to be invited to the book launch in City Hall with an Taoiseach, Enda Kenny. Photos taken that night made the inside of the Irish Times the next day.
It was also a pleasure to meet John Geoghegan on the night. John is a director of the World Scouting Federation and in the book you get to read about his career and the impact scouting has had on his life. Thank you, John!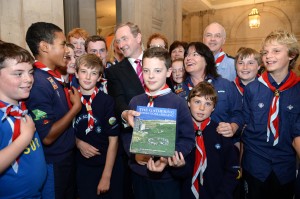 The book is available for sale online and would make a super Christmas gift.