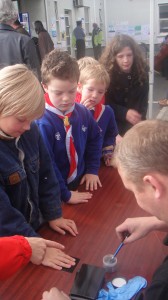 Venue: Northover hall, Harbour Road, Dalkey.
Time: Mondays: 6PM– 7PM
Age group: 6yrs-9yrs.
The Beavers  have great fun learning new games and skills which can then progress onto The Beaver Scouts award scheme which has 4 main awards:
Investiture
Bree (Year 1)
Ruairc (Year 2)
Conn (Year 3)
Beavers complete the awards by gaining SPICES points and marking off their progress on a special map.
In addition to the stage awards Beavers can also earn:
Adventure Skills – 9 skills with 9 competency levels
Special Badges – recognizing your individual hobbies/interests
Chief Scout Award for Beavers- Completed in the last six months in Beavers
Click Here to see some pictures of our beavers in action !
Beaver Section Leader
Henrietta